MBAY MOBILITY
Triggering a clean transport revolution in West Africa,
starting in Dakar, Senegal
Climate change
Mbay Mobility will cut 200,000 tons of CO2 per year in Dakar, equivalent to $10m of benefit
Health
Mbay Mobility will reduce air pollution and provide Dakar with health benefits worth $13m per year
Mobility
Mbay Mobility's smart system will reduce congestion and generate time savings worth $14m per year in Dakar
The above numbers are the result of an economic analysis done by Oeconomia Expertise, using a model developed by Andrew Sudmant of Leeds University. If you would like to view the report please reach out to us here.
How we do it
Clean
Our taxis are electric vehicles that can be charged using standard household plugs. We are working towards using exclusively solar power to recharge our batteries.
Smart
Our fleet is equipped with hardware and software that allows us to collect data. We use this data to make our fleet management efficient and use a pay-go system.
Robust
Proven quality, comfort and the required range. Minimim maintenance needed.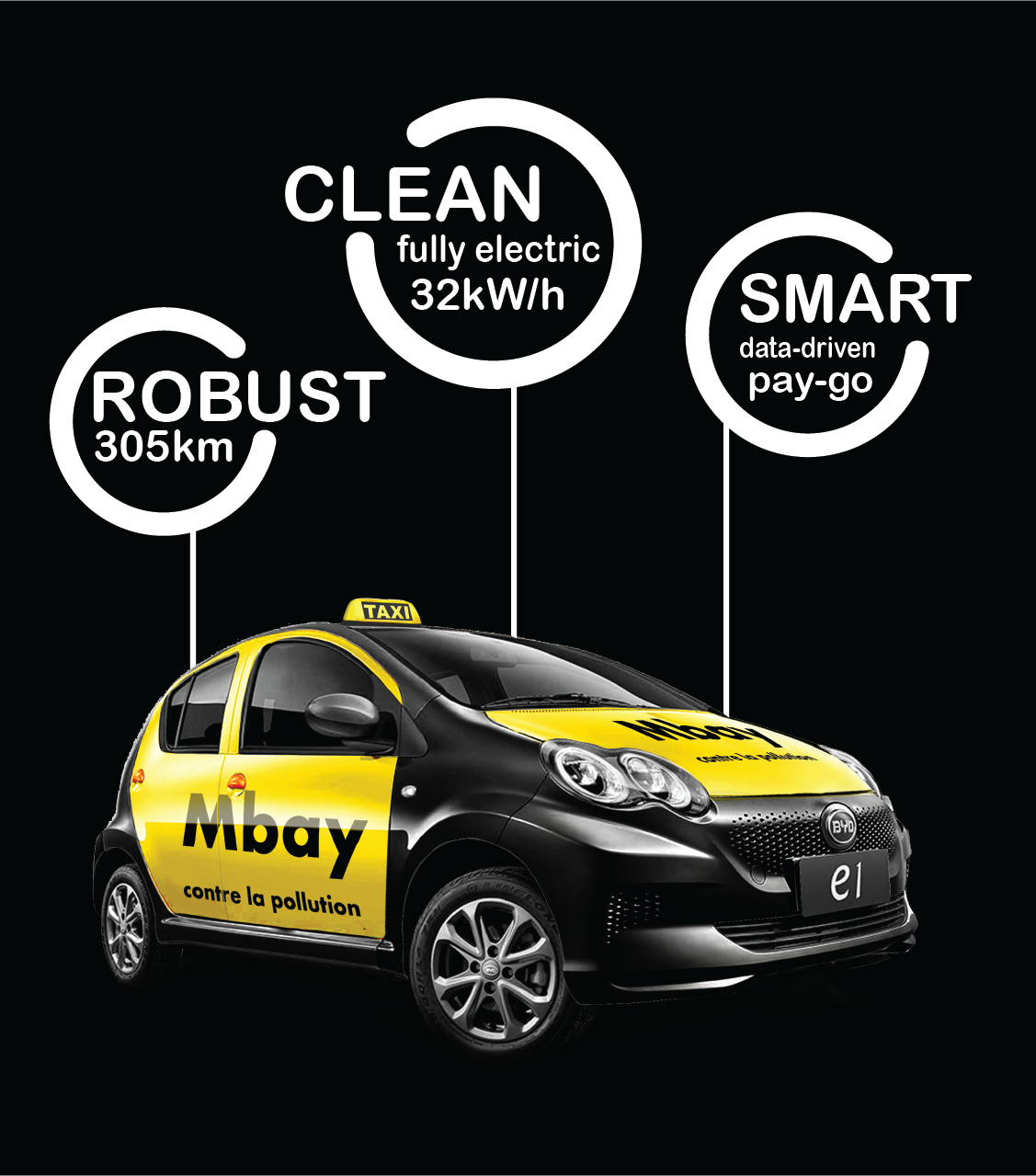 Money - can't live without it!
We are currently in contact with several interested investors to secure $500,000 for our pilot. This funding will go towards acquiring ten electric vehicles, paying import costs and taxes, adjust the vehicle to the local context, building and purchasing the fleet management and pay-go software and build a team to run the pilot and prepare for expansion.
Partnerships - can't progress without them!
We have met with the Senegalese Ministry of Transport and the Executive Transport Authority of Dakar who are keen to collaborate with us to see how we can make sure we are integrated with their plans. We are also in contact with several car suppliers, taxi and logistic software platforms, energy suppliers or mobile money providers, to make sure we work with the best.
Team - united we stand!
This is a big project with big ambitions to use business as a force for good, and we can't do it alone. As soon as we receive pilot funding, we will be looking for an experienced and dynamic project assistant, and soon after that we will be recruiting team members with various skills to help us set up our operations. If you're interested, please get in touch here.
Get to know us!
The clean transport revolution is now! If you want to know more about Mbay Mobility please get in touch here